The Warwickshire Retail Crime Initiative Limited (WRCI) is a County wide Partnership approach to prevent and reduce crime and anti-social behaviour in retail and licensed business premises in Warwickshire with members in Leamington, Warwick, Kenilworth, Stratford, Rugby, Atherstone, Nuneaton and Bedworth and villages in Warwickshire.
Our team is working to bring businesses together to work in partnership with the Police, the Police and Crime Commissioner, Warwickshire County Council, District Councils, CCTV, BIDS, the National Association of Business Crime Partnerships and other national and local organisations to tackle crime and disorder in our business communities.
We welcome new members. Read more about the scheme
here
.
Contact us
for further information or complete an
application form


​
Benefits of membership:
Use of ​the DISC App to submit reports and view offender images both known and unknown

View individuals excluded from WRCI member

premises
WRCI stickers to identify a premises as a member

Participation in the exclusion order scheme

Services of the WRCI Administrators

Over 500 members to share information with

Access to over 450 offender profiles

Access to the instant message facility on the DISC App
A weekly newsletter containing links to the latest news, alerts, documents and upcoming events​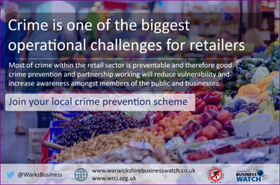 NEWSAugust 2021:
The Administrators are now visiting members and holding local scheme meetings. If you would like a vist or are are interested in joining the schem please use the contact
form
.
May 2021:
Warwickshire Business Watch has launched the ShopKind campaign. It has three aims:
Encourage positive behaviours in shops and licensed premises acknowledging the key role of shopworkers and staff.
Promote crime prevention and awareness of retail related incidents, fraud and scams.
Address violence and abuse against shopworkers.
Read the full details
here
on the Business Watch website
May 2021 :
In response to the growth in violence and abuse against shopworkers, the BRC has worked in co-operation with the Suzy Lamplugh Trust to create an animation that can be used by any retailer to train their staff on how to deal with such threats.
View here on
YouTube
April 2021:
ACS' has now launched their Crime Report 2021 which is available
here
The report found that retail crime has a huge economic impact on local shops, costing £142 million, but also a direct impact on people working in shops from violence and verbal abuse.
The report estimates there were over 40,000 incidents of violence and threats in the sector in the last year. 89% of store colleagues experienced verbal abuse; there were over 1.2million incidents with retailers estimating that 21% of these were hate motivated.
The sector has seen over 1.1million incidents of theft in the last year. Retailers attribute 63% of shop thefts to repeat offenders, with the majority of these motivated by a drug or alcohol addiction. Encountering shop thieves is now followed by customers not following covid guidelines and enforcing age-restrictions as top trigger for violence; duties that shopworkers are required by law to enforce.
---